10 Minute Guided Meditation to Ease Anxiety, Worry, and Urgency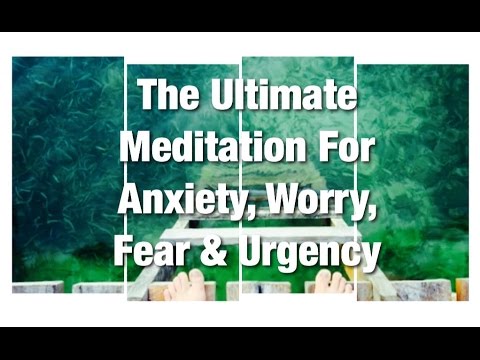 Calm relaxing mediation 10 minute guided meditation video to help ease Anxiety, worry and the sense of urgency.
Anxiety Worry and Urgency
We often feel the need to rush and complete tasks to move onto the next one. To make decisions by a certain time. This feeling of urgency, a pressure that causes us to act without considering our natural process of movement is a form of anxiety. Urgency can lead to panic attacks as well as anxiety attacks. In this free 10 minute guided meditation we employ guided positive energy and vibrations by calmly the urgency and anxiety as well as address the rumination of overthinking (i.e., over analyzing) OCD (Obsessive compulsive Disorder).
Anxiety and Anxiety Attacks
There are many remedies for physical trauma but few for the emotional trauma's that we experience. Some of the root of Anxiety can be traced to physical medical condition, although I practice that all anxiety is physical, even if the root stems from an emotional experience. Anxiety has a foot print can be tracked. In this 10 minute guided meditation we use positive healing energy through meditation to follow a peaceful path away from anxiety, panic attacks, urgency, compulsive disorder, worry and fear to arrive at our peace within.
Using Guided Meditations for Anxiety
Meditation has been scientifically proven beneficial for those who experience and even suffer from Anxiety. Meditation for anxiety, like out Positive Meditations, can transform the listeners experience and cause the mind to abandon anxiety impulses for a more peaceful and calming experience.
Positive Magazine offers relaxing 10 minute guided positive energy meditations. Our Positive Energy Meditations covers Anxiety, Healing, Depression, Sleep, Health, and much more! Even more exciting is that we offer meditations in ASMR (Autonomous sensory meridian response). We also upload extended videos to feed the subconscious mind though soothing chants to be played during sleep or rest to refuel your spirit with Positive Subliminal, subconscious and self hypnosis means. Family Friendly content and great for calm for exams and studying.
The meditations are ORIGINAL CONTENT and are NOT scripted; these healing words have traveled with me along my journey to arrive at this moment – they come directly from my heart to yours. Each positive meditation is intentionally designed for healing – DOWNLOAD and listen to 10 minutes of blissful relaxation and restorative peace.
Source: 10 Minute Guided Meditation to ease Anxiety, Worry, and Urgency | Soothing | instant Calm | POWERFUL