Day 3 | Nutrition & Shopping: 12-Week Hardcore Daily Video Trainer With Kris Gethin


Kris Gethin is your personal daily trainer. Follow him as he takes you and himself through a 12-week transformation. On your first rest day Kris will take you grocery shopping.
Get Kris Gethin's Full Plan Here, For Free! http://bbcom.me/1QVP168
Expert Nutrition Advice — Learn The Ropes
Don't Be Afraid Of Carbs:
• Carbs are your body's preferred energy source and consuming the right types of carbs will keep your metabolism firing at its optimal level.
• During your transformation, you should eat slow digesting carbs which are oats, rice and sweet potatoes/yams.
• If you prefer your rice to be more moist, reach for the short grain.
The Types Of Meat You Should Eat:
• When buying poultry reach for the breast — you'll get a much leaner cut.
• You want to get lean sources of meat so reach for the lean cuts of beef such as the eye of round.
• If you have a meat grinder at home you can grab the eye of round roast to make your own lean ground beef.
• Beef tenderloin can tend to have a lot of visible fat but if you cut that away you're left with good lean meat.
• Tilapia doesn't have much of a taste — so if you don't like the fishy taste, tilapia may be the perfect type of fish for you.
Be Prepared — Proper Food Preparation:
• Cook all your meals for the following day so you can easily grab them in the morning.
• If you don't already have some, buy tupperware containers so you can transport your food.
• Measure your food portions with a food scale, or compare it to the size of your fist for quick and easy measuring.
• If your food is too bland, add some spices such as ginger or cayenne pepper.
• Grilling your food will reduce the amount of fat you have to drain away while cooking, and will prevent the fat from being absorbed back into it.
• Use a cooking spray rather than butter while cooking to prevent large amount of fats to your diet.
Additional Tips To See Results:
• Eat before you go shopping so you don't buy based on hunger.
• Keep fiber in your diet to remain regular and keep your metabolism firing.
• Carry a gallon size jug of water with you — this will ensure you are getting enough water throughout the day.
• Coffee is not required for this transformation, but if you need that extra energy boost it may help.
Don't Forget Your Cardio!
• Even though this is a rest day make sure you do your cardio in the morning and evening.
Kris Gethin trains you and trains with you during his 12 week transformation program – burn fat and build muscle to sculpt your ideal physique!
KRIS TRANSFORMS WITH YOU!
Follow Kris Gethin's complete 12 week
transformation program – you know the results
are REAL – Kris trains and transforms with you!
A DAY IN THE LIFE
Watch Kris document his life on camera –
the ups & downs, the passion and
intensity! No gimmicks – Kris transforms
his body in 12 weeks.
TRAIN WITH KRIS FOR FREE!
Get 12 weeks of Kris's mind-blowing workouts,
a diet plan, expert supplement stack, and
non-stop motivation – 84 days of one-on-one
with Kris for FREE!
YOUR PERSONAL TRAINER – KRIS GETHIN
GIVES YOU THE PROGRAM BREAKDOWN:
• Train like Kris for the best workouts of your life
• Eat and supplement like Kris to build muscle and get ripped
• Exclusive tips and tools to start day one off strong
Bodybuilding.com:
SALES & SPECIALS: http://bbcom.me/1QVP1TI
FITNESS ARTICLES: http://bbcom.me/1QVP2Hc
#1 ONLINE SUPPLEMENT STORE: http://bbcom.me/1QVP5Tq
FREE FITNESS PLANS: http://bbcom.me/1QVP6GN
Follow Us:
YOUTUBE: http://bit.ly/1RSJFa4
FACEBOOK: http://on.fb.me/1lomhpr
INSTAGRAM: http://bit.ly/1LzBxab
TWITTER: http://bit.ly/1RSJQlL
GOOGLE+: http://bit.ly/1NRe8qu
PINTEREST: http://bit.ly/1OOZgY4
SPOTIFY: http://spoti.fi/1NRebm0
We are Bodybuilding.com. Your transformation is our passion. We are your personal trainer, your nutritionist, your supplement expert, your lifting partner, your support group. We provide the technology, tools and products you need to burn fat, build muscle and become your best self.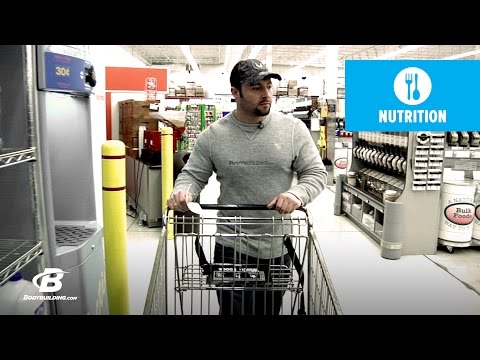 Source: Day 3 | Nutrition & Shopping: 12-Week Hardcore Daily Video Trainer With Kris Gethin