Bodybuilding Meal: Salmon Recipe High Protein & Healthy Fat


● Website – http://www.fusarofitness.com
● Facebook – https://www.facebook.com/FusaroFitness
Healthy Bodybuilding Meal! This salmon recipe is not only easy to cook but is loaded with nutrients. It contains a great source of omega 3 fatty acids as well as protein from the salmon, a ton of micronutrients, vitamins and minerals from the spinach and tomatoes and is even low in carbs. If you want to add more carbs you can just throw in a cup of rice or some potatoes as well!
Go Ahead – Stalk Me!
● Website – http://www.fusarofitness.com
● Facebook – https://www.facebook.com/FusaroFitness
● Instagram – http://instagram.com/mattyfusaro
● Twitter – https://twitter.com/fusarofitness
● Subscribe For More Videos: http://bit.ly/subscribemf
● Recipe & Meal Ideas: http://bit.ly/recipesmf
● All Ampt Episodes: http://bit.ly/amptseries
● Training Tips &Advice: http://bit.ly/trainingmf
Fusaro Fitness Mailing Address:
●Matty Fusaro
●P.O. BOX 1746
●Rocky Point, NY 11778
Ingredients:
5oz. (141g) Salmon
1oz. (28g) Reduced Fat or Fat Free Crumbled Feta Cheese
Fresh Garlic To Taste
8-10 Cherry / Grape Tomatoes
2 Servings (170g) Baby Spinach Leaves
Macros:
Total Calories 415
Total Fat: 22g
Total Carbs: 12g
Total Protein: 42g
Check Out More Videos Here: http://www.youtube.com/mattyfusaro
Intro: youtube/cashmoney503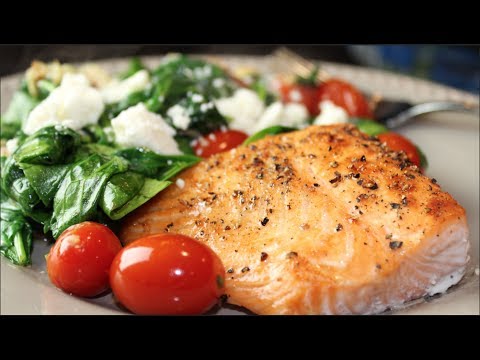 Source: Bodybuilding Meal: Salmon Recipe High Protein & Healthy Fat