5 Exercises for HUGE Shoulder Gains


Supersize Your Gains:
http://sixpackshortcuts.com/rdGb
Yo! What's up guys!
It's Mike Chang with Six Pack Shortcuts and today I'm going to be showing you 5 exercises that you can do at home to get some big ass shoulders! All you need is pair of dumbbells. It's routines like this that will maximize your gains and get you the crazy ripped body of your dreams with long-term results.
0:15 Key thing to remember when working shoulders:
– You need to work them from all 3 angles:
1) Front Delts
2) Side Delts
3) Rear Delts
** If you're not hitting all 3 parts, then you're going to have an obvious imbalance in your shoulders that will both affect your strength and be noticeable to others.
0:54 It's important that when you're doing your workouts that you know what areas you're working — It's all about feeling your muscles during your workouts, or having "muscle connection".
Workout Breakdown:
5 Exercises / 10 Reps Each – 20 Push Ups / 5 Rounds / Minimal Rest – 15 to 20 seconds
1) 10 Side Laterals:
– Works the side
2) 10 Hammer Front Raises:
– Works the front
3) 10 Bent Over Laterals:
– Works the rear
4) 10 Front Raises (to ceiling):
– Works the front and rear
5) 20 Push Ups:
– Works the front, even though it's mainly for your chest
2:53 I'm going to go through 1 full round to show you the correct form for each movement and where you should be feeling it.
– This way you can do this at your own pace and get the other 4 rounds done on your own.
** Tips to remember:
– Start with a weight that you can do about 12 reps with while maintaining good form.
– As you move through this routine, it will get tougher!
3:21 If you're able to do 3 rounds with the full 10 reps but in the 4th are struggling and can only get 8 or so in… that's ok.
– DON'T decrease your weight!
– Even if you're fatiguing near the end of your workout, you need to maintain a moderate weight — This is when it counts the most so you can put good SIZE on those shoulders.
Let's Do This!
Proper Form Breakdown:
3:55 1) Side Laterals:
– Sit on the edge of the seat with your feet and knees together.
– When doing the full range of motion, your hands will go down together under your thighs.
– Start slightly bent over with your dumbbells together under your thighs.
– Bring both arms out to your sides, not going higher than parallel to the floor, then back down to touch them together again.
– As you raise up rotate your dumbbells so that the outside of your fists point towards the ceiling.
– You can slightly bend your elbows here if you need to.
5:57 2) Hammer Front Raises:
– Start in the same position as above, you still need room for a full range of motion.
6:43 It's very important not to swing your arms on this one… Think "Robot".
– Start with your arms by your sides.
– Bring the dumbbells straight up in front of you until your arms are parallel to the floor (think almost "touchdown" signal) then back down.
– Pause at the top for a brief second to ensure that you don't start swinging through this.
7:41 3) Bent Over Laterals:
– This move is very similar to the Side Laterals, except with this one you are fully bent over.
– So again, start in the same seated position but bend at the waist to your chest is at your knees.
– When you bend over you want to let your arms hang down, shoulders forward, really loosening those traps and stretch out as far as you can to each side.
** You do this to ensure that you are working those rear delts and not letting your back do all the work.
11:45 Rest for 30 seconds if you need to at the end of the round, but remember to keep rest time to a minimum.
Hope you enjoyed this demo, if you do this routine then you'll look GREAT in whatever shirt you decide to wear (or don't wear) because you'll have those nice, big, bowling-ball shoulders which gives you that powerful "V" shape that we all strive for.
—
Check out how to get Maximum Muscle in Minimum Time:
http://sixpackshortcuts.com/rdGb
Does it work?
Well if any of you don't know, I'm not one of those guys who has been gifted with superior genetics and I haven't been in shape my whole live. I thought that I was doing everything the right way but just wasn't getting the gains I expected. Then suddenly, I was able to transform my entire body when I discovered this "1 unique training tip". Now I have the powerful, muscular body of my dreams and have the knowledge to keep it that way.
Check out this "tip" – You'll be so pumped at the results!
http://sixpackshortcuts.com/rdGb
Train hard,
-Mike
P.S. — Use this link to share the video with your friends on Facebook!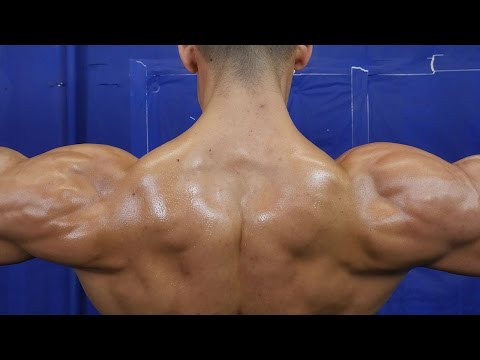 Source: 5 Exercises for HUGE Shoulder Gains