Viva Naturals Premium Non-GMO Vitamin C with Bioflavonoids and Rose Hips, 1000mg, 250 Veg Caps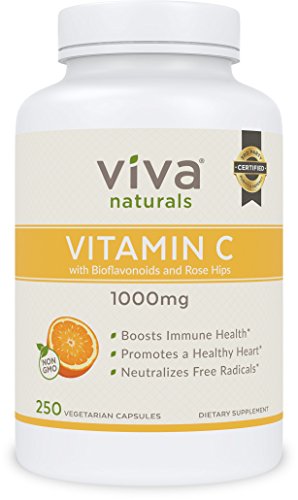 Viva Naturals Vitamin C with Bioflavonoids and Rose Hips provides all-natural protection against free radicals, supporting everyday functions including vision, heart, circulatory health and more!
"Finally a non GMO vitamin C that is also effective!"
The Dangers of Vitamin C Today
The majority of vitamin C today is chemically synthesized and sourced from genetically modified (GMO) corn, producing inferior forms of vitamin C. Viva Naturals ensures our vitamin C is 100% authentically produced from non-GMO whole food sources, helping you meet your daily nutrient needs, naturally.
The Viva Naturals Difference
Each serving of Viva Naturals' vitamin C provides 1,000mg of vitamin C, enhanced with bioflavonoids and rose hips. Bioflavonoids and rose hips have been clinically shown to boost the bioavailability of vitamin C, while providing natural sources of this vital nutrient. Each batch is routinely tested for impurities and GMO ingredients, guaranteed to be 100% pure and highly concentrated.
Supplement Facts
Serving Size: 1 Vegetarian Capsule
Amount per Serving:
Vitamin C (ascorbic acid): 1,000mg
Rose Hips (fruit powder): 25mg
Citrus Bioflavonoid Peel Complex: 25mg
Other Ingredients: Hypromellose (Vegetarian Capsule), Vegetable Stearate, Rice Flour.Non-GMO Ingredients – Beware of impurities found in other vitamin C products. Our vitamin C is third-party tested with every batch, providing natural sources of vitamin C that are guaranteed to be GMO-free. Each serving provides 1,000mg of non-GMO vitamin C!
Synergistic Formula – Citrus bioflavonoids and rose hips enhance the bioavailability of vitamin C by offering superior absorption and efficacy. Studies have shown that these compounds increased the absorption rate of vitamin C by 35%.
Natural Skin Wonder – Vitamin C is a natural precursor to proline and lysine, two amino acids that are essential for collagen formation. Collagen provides structure and support to organs, helping to maintain the appearance of firmer and more youthful looking skin.
Provides Cellular Protection- Although known as an immunity booster, vitamin C also helps to absorb iron, neutralize free radicals, promote cardiovascular health and support healthy vision.
Easy to Swallow – Our vegetarian capsules are easy to swallow and gentle on the stomach, eliminating the discomfort commonly associated with large tablet forms of vitamin C.

Buy now… $22.95

Source: Viva Naturals Premium Non-GMO Vitamin C with Bioflavonoids and Rose Hips, 1000mg, 250 Veg Caps