BEST – WHOLEFOOD – VITAMIN – C POWDER – HEALTHFORCE – VS – MEGAFOOD


BEST – WHOLEFOOD – VITAMIN -C POWDER – HEALTHFORCE – VS – MEGAFOOD
Vitamin – C helps boost the immune system which is crucial to having a healthy body to help fight infection and disease. You cant get too much vitamin C, especially in whole food form. Papaya
( Paw Paw) actually has more vitamin c than oranges. Why not start every morning with that juicy delicious fruit!!
I have ben searching for the best Vitamin C powder for years and I've finally found 2 types of vitamin C powders that are good grade quality and not only Organic but above and beyond those standards. Most vitamin C products you found out there today are in pill form and aremade out of some chemical version of vitamin c. Megafood is known as a wholefood products and Healthforce is also known as a superfood wholefood product line. Healthfoece also uses TruGanic standards which mean 100% pesticide-free, 100% radiation-free and 100% heavy metal-free. No other company can claim such high standards and they even use high vibration technology to keep the product super charged for as long as possible. The Vitamin C in the Healthforce product comes from the Acerola Cherry and is over 500% vitamin C per serving. Mefood Vitamin C Powder uses Oranges, Blueberry, and some amazing herbs!! Megafood has over 470% vitamin C so both are comparable in amount of immune boosting vitamins!
HEALTHFORCE
Serving Size: 5.4 grams (1.5 teaspoons)
Ingredients: Acerola cherry extract
Other Ingredients: Non-GMO corn maltodextrin as a drying medium
EcoFresh Nutrient Lock Packaging™: Recyclable amber glass with airtight rubberized metal lid and oxygen absorber actually preserves the effectiveness of the product.
Each 1.5 teaspoon provides: 302 mg of naturally occurring, truly natural, absorbable, non-toxic vitamin C complex from a whole food extract of acerola cherry (containing naturally occurring cofactors including bioflavonoids, vitamins, minerals, and phytonutrients). Naturally buffered. This product does NOT contain isolated vitamin C! This truly natural acerola concentrate is not excreted in large amounts in the urine (visible as a yellowish tint), is not highly acidic, is non-toxic, and does not cause nutrient imbalances (does not imbalance iron and copper levels or promote anemia). Vitamin C never occurs as an isolate in nature; it is part of an entire vitamin C complex! Food sources of the entire vitamin C complex are the only way to get nutrition as nature intended.
Fresh From Farm to Powder™
With Blueberries, Cranberries & Uncle Matt's Organic® Whole Oranges
Unsweetened Whole Food Dietary Supplement
30 Servings
Non-GMO / Gluten Free
Vegan / Kosher
Supplement Facts
Serving Size: 1 Level Scoop (2.1 Level g)
Servings per Container: 30
Amount Per Serving % Daily Value
FoodState® Orange Vitamin C 250 mg 417%
FoodState® Farm Fresh Fruit Phenolic Blend
Uncle matt's Organic Whole Oranges (natural source of bioflavonoids), Organic Blueberry (natural source of anthocyanins), Organic Cranberry (natural source of proanthocyanins). 755 mg *
Immune-Strengthening Herbal Blend
200 mg Organic Astragalus Root, 175 mg Organic Schisandra Berry
Always try to eat wholefood vitamins and lots of whole fruits and vegetables that are raw, unprocessed, non gmo, and organic and as local as possible. Its hard to do all local when we live in a global village and people order products online to around the world!
Thanks for watching my You tube Channel, please subscribe or send to a friend who may need to hear this information. Please also like True Rebels Go Raw on Facebook!
VOTE WITH YOUR MONEY!!!!!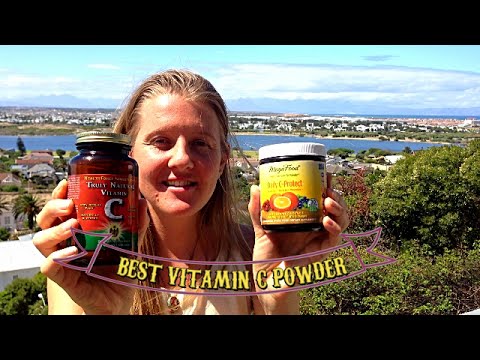 Source: BEST – WHOLEFOOD – VITAMIN – C POWDER – HEALTHFORCE – VS – MEGAFOOD