Vitafusion Prenatal, Gummy Vitamins, 90 Count
Vitafusion Prenatal, Gummy Vitamins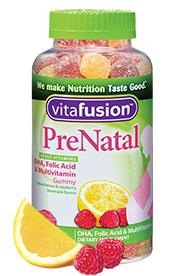 Gummy vitamins formulated specifically for adults!

Great Tasting Natural Fruit Flavors!
The #1 Adult Gummy Vitamin Brand†
Love your prenatal vitamins! A complete multivitamin, each serving of vitafusion PreNatal includes essential vitamins and minerals including an excellent source of folic acid and 50 mg of Omega-3 DHA. vitafusion PreNatal gummies are delicious, and with no iron, they are easy on the stomach. * The high-quality, purified fish oil used in vitafusion PreNatal has been tested for heavy metals such as mercury and lead.
Delicious Gummies Specially Formulated for Adults
A two gummy serving of vitafusion PreNatal provides an excellent source of Vitamins A, C, D & E. It also provides as much Folic Acid as 3 cups of cooked spinach and an excellent source of Omega-3 DHA (contains 50 mg of DHA per serving, which is 31% of the 160 mg Daily Value for DHA). With natural lemon and raspberry lemonade flavors, these delicious gummies are gluten free and made in the USA.
Suggested Use
As a dietary supplement, take two (2) gummy vitamins per day. Chew thoroughly before swallowing. vitafusion gummy vitamins should not be exposed to excessive heat or moisture. They should also be kept out of the reach of children. For a complete list of ingredients, please refer to the supplement facts on the package label.
FDA Disclaimer
*These statements have not been evaluated by the Food and Drug Administration. This product in not intended to diagnose, treat, cure or prevent any disease.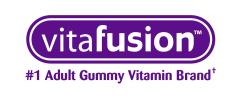 A two gummy serving of vitafusion PreNatal provides:
An excellent source of Vitamins A, C, D & E
50 mg of Omega-3 DHA
As much Folic Acid as 3 cups of cooked spinach
About vitafusion
Since 1998, we have revolutionized the dietary supplement industry with five simple words: "We Make Nutrition Taste Good. " Our introduction of a full range of delicious, gummy vitamins and supplements has provided consumers with an enjoyable and convenient alternative to traditional vitamin pills and tablets. As a leader in the field of taste and nutritional technology, we cover the full spectrum of dietary supplements for adults and children with the vitafusion and L'il Critters family of gummy vitamin brands. We place the utmost importance on high product quality and use sophisticated laboratory testing, both in-house and through certified contract laboratories. We have a long history of quality manufacturing, with an unwavering commitment to supply our customers with innovative vitamin supplement products that provide uncompromising quality. vitafusion and L'il Critters products are made in the USA. †Based on 52 week unit sales of adult gummy vitamins, Nielsen All Outlet Data, thru April '14
| You May Also Like: | vitafusion Fiber+Calcium | vitafusion B Complex | vitafusion Omega-3 |
| --- | --- | --- | --- |
| Natural Fruit Flavors | ✓ | ✓ | ✓ |
| Made in USA | ✓ | ✓ | ✓ |
| Available on Amazon | ✓ | ✓ | ✓ |
242 mg of Vitamin C
As much Vitamin C as 10 tangerines
Supports immune health*
Great tasting gummies with natural orange flavor
Assorted Flavors, flavors may vary

Buy now… $5.59

Source: Vitafusion Prenatal, Gummy Vitamins, 90 Count