Nature Made Multi for Him 50+ Multiple Vitamin and Mineral Supplement Tablets, 90-Count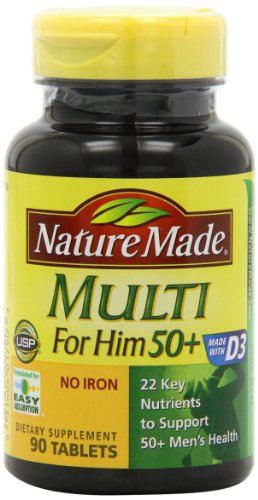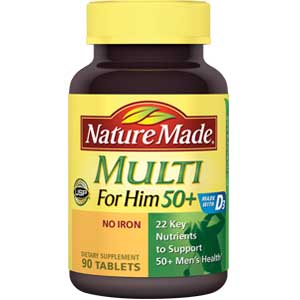 view larger
Nature Made Multi for Him 50+ Tablets, 90-count
Nature Made Multi For Him 50+ is a specially formulated multivitamin with 22 key nutrients to support specific nutrient needs for men over age 50. Ensuring an adequate intake of essential nutrients is important to support your overall health.†
Formulated without Iron
Nutrient requirements can vary by age and gender. Menstruating women have a higher iron recommendation than men and therefore this product is formulated without iron.
Supports Bone, Teeth and Muscle Health†
Maintaining healthy levels of vitamin D in your body has been shown to be an important part of your bone, teeth and muscle health. Nature Made Multi For Him 50+ contains 1000 IU of vitamin D3, the body's preferred form of vitamin D, and calcium to support and maintain strong bones.†
Provides Antioxidant Support and Helps Support a Healthy Immune System†
Vitamin C provides antioxidant support and helps support a healthy immune system. Vitamin D and beta-carotene also support immune health. Additionally, vitamin E and selenium provide antioxidant support to help protect healthy cells from damaging free radicals.†
Support Cellular Energy Production†
All eight B vitamins are included to support cellular energy production. These essential nutrients help convert the carbohydrate, protein, and fat from your diet into cellular energy to fuel your body's many chemical reactions.†

Nature Made's Commitment to Your Health
Everyone wants a firm foundation to stand upon when making decisions about their health. Since 1971, the Nature Made brand has been dedicated to supporting your health with a wide range of high quality vitamin supplements. Because of their strong stand on quality and science for more than 40 years, Nature Made has earned recognition and trust among nutrition experts and people just like you.
Nature Made became the first national vitamin brand in the U.S. to earn United States Pharmacopeia (USP) verification on many of its products. USP is a scientific, nonprofit organization that has been setting federally-recognized, public standards of quality for medicines; dietary supplements; and food ingredients.
Safe and Quality Ingredients
All Nature Made products are made in accordance with strict Good Manufacturing Practice standards. Their nutrition supplements are made from carefully selected ingredients from trusted suppliers. Nature Made products are guaranteed to meet high quality standards of purity and potency. When you take the vitamins behind that familiar yellow label, know that you're taking the best for your health.
This supplement contains no artificial flavors, colors, preservatives, yeast or gluten..
†These statements have no been evaluated by the Food and Drug Administration. This product is not intended to diagnose, treat, cure or prevent any diseases.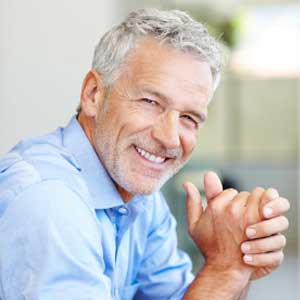 Nature Made Multi for Him 50+ At-a-Glance
Supports bone, teeth and muscle health†
Provides antioxidant support†
Helps support a healthy immune system†
Supports cellular energy production†
Formulated without iron
What's in the Box
90 tablets
Usage
Suggested Use: For best results, take one tablet daily, with a meal.
Interactions
Check with your primary health care professional before using this product if you are taking any medications, as drug-nutrient interactions may occur in some cases.
Recommended as part of daily regimen for general health, wellness, bone/joint health, and immunity
Contains a blend of 22 key vitamins and minerals; serves as the foundation of a high-quality supplement program
Helps protect the body from damage caused by free radicals while keeping the immune system strong
Founded in 1971, Northridge, California-based Pharmavite manufactures Nature Made vitamins and Nature's Resource herbal products

Buy now… $6.59

Source: Nature Made Multi for Him 50+ Multiple Vitamin and Mineral Supplement Tablets, 90-Count