Heal Your Body with Tai Chi: Reduce Blood Pressure, Relieve Arthritis, and Speed Up Recovery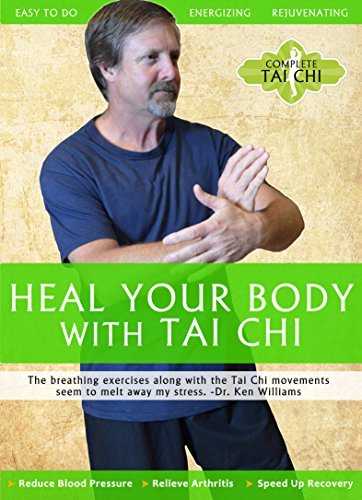 Heal Your Body with Tai Chi is a pick up and practice style program for anyone in need of healing their body. Tai Chi has proven to help lower blood pressure, relieve arthritis, and even help to speed up the recovery from an accident or chronic pain. The gentle, flowing movements are soft on the joints, and invigorating with proper deep breathing. The included classes are in a follow-along format which make it easy to just press play and get moving. You will be amazed how you feel after your first class.
Fundamentals – What is Chi? / Proper Breathing / Five Power Principles / Five Technical Flowing Elements
Breathing Exercises – To develop deep breathing ability, and strong lungs. The Level 1 and Level 2 breathing exercises will help your body remember the importance of vital life force, and its direction in the healing process.
Follow Along Classes – Quick Warm Up / Tai Chi Class 1 (18 minutes) / Tai Chi Class 2 (17 minutes) / Chi Kung Class (17 minutes)
2 hours packed with classes and complete complete training. DVDs work in players Worldwide.
These statements have not been evaluated by the FDA. This product is not intended to diagnose, treat, cure, or prevent any disease.3 easy to follow along Tai Chi and Chi Kung classes (17 minutes each)
Includes a complete beginners guide to tai chi
Learn the basic elements/techniques of tai chi
Breathing Exercises: to develop deep breathing and healing practice
Heal your body through the invigorating practice of tai chi

Buy now… $24.99

Source: Heal Your Body with Tai Chi: Reduce Blood Pressure, Relieve Arthritis, and Speed Up Recovery