Rien Pipe GS – Stop smoking, stress free. No-nicotine, gradual quit program.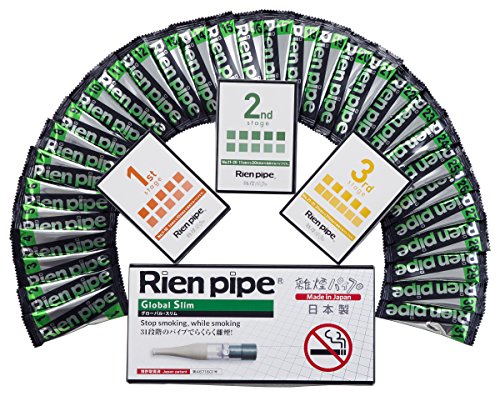 Don't rely on cigarette patches or inhalers to get you through quitting smoking.
Tired of living your life feeling like you're always tied to your cigarettes? Are you tired of how the habit makes you feel, how much you spend on smoking, or the impact it is having on your life and the important people in it? It's time to quit smoking – with Rien Pipe, the non-nicotine method for quitting.
Lightweight and compact, you can carry Rien Pipe wherever you go. When you want to light up, you simply attach the Rien Pipe filter to your cigarette and smoke as usual. Rien Pipe works automatically, cutting nicotine by an extra 3% each day. This lets you step down gradually off nicotine, helping control cravings and cut your tobacco dependence at your own pace or by following the 4-8 week program.
* Compatible cigarette diameters: slim cigarettes between 5.4mm and 7.0mm.
* Rien Pipe GS fits most slim/superslim cigarettes.
* Smoke regular cigarettes? Search for "Rien Pipe GR".
* EACH KIT CONTAINS: 31 Rien Pipes, guidebook (English version), booklet (English version).CONFIDENT 10+ year track record. Over 550,000 sold worldwide. Rien Pipe reduces the amount of nicotine and tar you inhale while smoking, which can help you step down from smoking at your pace.
EASY TO USE: Unwrap a Rien Pipe, attach to your cigarette and smoke as usual. Cuts nicotine by around 3% each day, resulting in a 95% cut in just 31 days. Stop smoking, while smoking. All without the stresses commonly associated with quitting smoking.
NO GUESSWORK: Automatically subtracts nicotine and tar intake, gradually reducing your tobacco use and dependence. Smoke stronger cigarettes? Rien Pipe is cleanable and reusable.
PEACE OF MIND: Safe and side-effect free. Not an e-cigarette or vape. No worries about batteries or chemicals. Stop using nicotine to quit nicotine. Patented Rien Pipe filters out tar & nicotine right at the source.
COMPATIBILITY: Rien Pipe GS is for SLIM/SUPERSLIM cigarettes. If you smoke regular cigarettes, search for "Rien Pipe GR". Each lightweight filter can fit in your pocket or purse.

Buy now… $139.00

Source: Rien Pipe GS – Stop smoking, stress free. No-nicotine, gradual quit program.