FBRFX Hair Fiber Styling Applicator Brush – for Optimal Application of Hair Fibers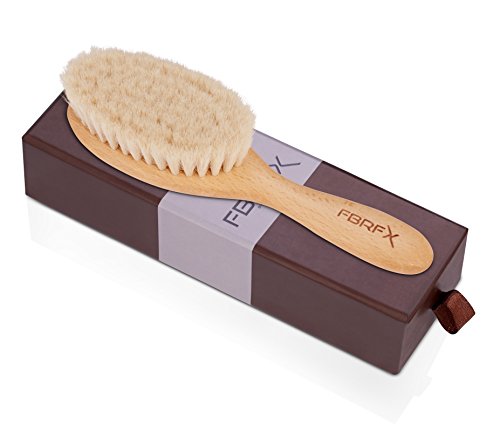 FBRFX by Hair Metrics
Improve Hair Fiber Coverage:
If you're one of the many that use fiber for hair and spend precious time in the morning styling your hair, you know that fibers often clump on bald spots or in areas of moisture and oil while remaining on the surface of thicker hairs. Gaps between thinning hairs may remain empty, leading to additional applications. Not only does this result in more product used and a dusted appearance, but increases the chance of shedding on your skin and clothing.
FBRFX (Patent Pending) is engineered and designed to solve all of these problems and more. Typical hair brushes are too firm and disturb hair fibers leading to streaking and an unnatural look.
On the other hand, styling with only your hand can result in clumping, gaps, a dusted appearance, and stubborn thinning spots that take many applications to cover. Put those problems in the past! Once you master using FBRFX styling applicators, it will be a faster and easier experience to get rid of that balding look, and will result in a natural looking appearance.
How FBRFX Works:
Our secret is a proprietary blend of goat hair and soft synthetic densely packed bristles that provide a low tension textured surface needed to optimally blend and distribute hair fibers while at the same time filling gaps in thinning hair. As the surface of FBRFX is guided over the thinning hair area, the bristles cling to each hair and hair fiber positioning them in an ideal fiber retention configuration.
Excess hair fibers resting on thicker hair areas or those clumped together are dispersed to fill gaps in the thinning areas. As these areas are filled, extra fibers are blended into thicker hair. Additional direct applications can then focus on areas with no hair if necessary.
Click "Add to Cart" now to purchase yours today, and see how FBRFX can revolutionize your daily grooming process!With FBRFX Hair Fiber Applicator Brush You Can: IMPROVE HAIR FIBER COVERAGE and Better Conceal Thinning Areas; Reduce Fiber Clumping; Improve the Natural Textured Appearance of Your Hair; Shorten Application Time; Reduce Fiber Waste and Shedding
USE WITH ANY HAIR BUILDING FIBERS both natural and keratin including Xfusion, Toppik, Caboki, Nanogen, Fibrex, Kerafiber, Miracle Hair, Hair Illusion, SureThik, Finally Hair and many more
FBRFX is a specially designed styling hairbrush to BETTER POSITION AND DISTRIBUTE HAIR BUILDING FIBERS reducing the appearance of hair loss; can help make a single hair fiber purchase last longer; is perfect for dusting stray hair fibers off your face, neck, and ears
BRUSH, STYLE, AND SMOOTH your hair with FBRFX after spraying without worry; FBRFX handle made of high quality beech wood with soft, low-tension goat-hair blended bristles; ideal for both men and women with thinning hair
NO RISK: No questions asked 30 day refunds or returns; We want you to be 100% satisfied with your purchase

Buy now… $45.99

Source: FBRFX Hair Fiber Styling Applicator Brush – for Optimal Application of Hair Fibers