Ultimate 30 Day Beginners Guide To Fitness – Day 18 – Bodybuilding.com


Get the full program here: http://bbcom.me/1wVDAxr
There's no better tool than a simple, heavy barbell! Today, you're going to dive into some classic lifts and learn how to scale them for your experience level.
How was yesterday's cardio challenge? It should have been tough, because there's very little in our modern lives that can prepare us for the unique challenges of a 400-meter run after a hard set of bodyweight squats. However, you may have noticed that during that workout, life seemed to slow to a crawl, and everything else seemed remote and unimportant. Enjoy that feeling, because t's one of the major appeals of hard physical training!
Today, you're going to turn around from that tough workout and head right back into the gym for some more compound barbell lifts. Don't worry, you're up to this challenge! These movements are the ones that help full-body transformations happen more quickly than any machine exercise, and it's well worth your time to get to know them. Steve will explain what you're going to do.
DAY 18 CHALLENGE
Complete a dynamic warm-up, free weight workout, and cool-down.
TAKE THE BAR
Once you take the step into the world of barbell lifts, proper form becomes even more important, as does engaging in an effective dynamic warm-up. When you're ready to wrap your hands around the bar, as Steve advises, leave your ego at the door and pick a weight that allows you to explore the movement. But before you hit the gym, take some time to absorb as much information about good form as you can find, such as through our exercise database video or the articles below the workout table.
Squats and deadlifts may sound a bit intimidating, but the nice thing about them is that they can be scaled back to any experience level. Don't be afraid to try a more approachable version, otherwise known as a "regression."
For something like the barbell deadlift, you might have to start with some drills to help you nail the hip hinge, which is the deadlift's movement pattern.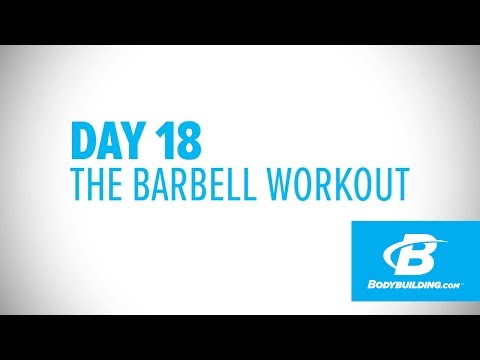 Source: Ultimate 30 Day Beginners Guide To Fitness – Day 18 – Bodybuilding.com