Top 5 Tricep Long Head Exercises For Thicker Arms


► THE BODY TRANSFORMATION BLUEPRINT – http://www.BodyTransformationTruth.com
► GET YOUR FREE CUSTOM MEAL PLAN – http://www.SeanNal.com/free-meal-plan.php
► TAKE MY ONLINE FITNESS QUIZ – http://www.SeanNal.com/quiz-questions.php
[OFFICIAL WEBSITE] http://www.SeanNal.com
[CONNECT WITH ME]
Facebook: https://www.facebook.com/SeanNalewanyjOfficial
Twitter: https://twitter.com/SeanNalewanyj
Instagram: https://instagram.com/Sean_Nalewanyj/
Snapchat: http://www.seannal.com/snapchat.html
Google+: https://plus.google.com/u/0/102525881371598129847
[RECOMMENDED STUFF] http://www.SeanNal.com/recommended.php
——————————————————————————–
Video Summary:
Top 5 Tricep Long Head Exercises For Thicker Arms
http://www.SeanNal.com/articles/training/tricep-long-head-exercises.php
The tricep long head is the largest of the 3 individual heads that make up the triceps, and if you want to build thicker arms that really stand out, building up this portion of the arm is an important step.
All 3 heads do perform the function of elbow extension, but the long head of the triceps actually crosses the shoulder joint and performs the function of shoulder extension as well.
If you want to get the most effective tricep long head workout possible and build tricep muscle effectively, you need to perform exercises that place the shoulder into a flexed position, since this stretches the long head out and forces it to perform the majority of the work.
The best way to do this is through the use of overhead extensions, since these fully flex the shoulder and thus maximize long head activation.
These are my top 5 favorite tricep long head exercises available to accomplish this…
** 5 Best Tricep Exercises For Mass (Long Head)
#1 – One-Arm Overhead Cable Extensions: This is my favorite lift to build tricep long head mass since it places the triceps under constant tension and lets you train each arm independently. Just grab onto a cable and face away from the machine, and then extend your arm overhead, contract the tricep, and lower the cable behind your head before repeating.
#2 – Overhead Rope Extensions: This is the same motion as the previous exercise but done using a rope attachment and both arms at the same time. Another great way to get a strong tricep long head workout and build bigger triceps, and for added results, pull the rope apart at the top of each rep.
#3 – One-Arm Overhead Dumbbell Extensions: This is my top free weight variation and is done by holding a single dumbbell in one hand and performing the exercise seated or standing.
#4 – Two-Arm Overhead Dumbbell Extensions: Use both hands and grip the inner plate of a dumbbell and perform the tricep extension behind your head. This is best done seated.
#5 – French Presses – This tricep long head exercise is done using an ez-curl bar or straight bar from a seated position, performing a regular tricep extension overhead with it.
So, if you want to build thicker arms by adding mass to the long head of your triceps, give these 5 exercises a try and see which ones you'd most prefer to add into your tricep workouts.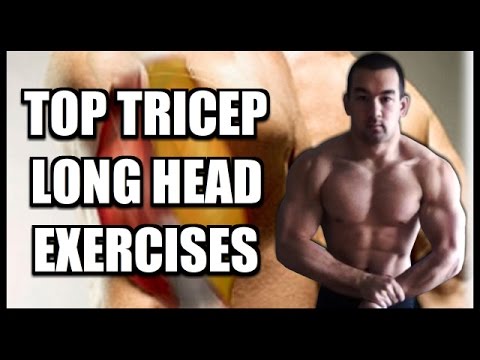 Source: Top 5 Tricep Long Head Exercises For Thicker Arms