Bill Phillips BACK TO FIT 12-Week Trainer: Back To Supplementation – Bodybuilding.com


In addition to a solid exercise regimen and nutrition plan, supplements can help you make better, faster progress toward your fitness goals. Check out the Back to Fit recommendations!
Follow Bill Phillips' Full Trainer: http://bbcom.me/1u0OJSr
Back in my 20s, I was interested in how supplements could help me achieve better results. At the time, the science of supplements was just getting started. We were moving past the old days of crummy-tasting protein powders and desiccated liver tablets and into a really exciting era. Scientists were just starting to test various supplement products, and finding that there was a tremendous validity to using them.
Today, supplement science is common, and has yielded even more evidence that supplementation can be an important part of a fitness plan. If you provide your body with the right amount of the nutrients you need every day, you can stay healthier, longer.
My bottom-line advice is this: Basics are best. Your approach to supplementation should be the same one you use for your workouts and nutrition: Keep it simple, and keep it consistent. Don't try to keep up with every new trend. Pick a workout and stick with it. Pick a nutrition method and stick with it. Pick 2-4 basic supplements and stick with them.
Here are some of my supplement recommendations for people who are actively trying to improve their health through fitness.
ESSENTIAL SUPPLEMENTS:
WHEY PROTEIN
CREATINE MONOHYDRATE
MULTIVITAMIN
OMEGA-3 FATTY ACIDS
ADDITIONAL SUPPLEMENTS:
L-GLUTAMINE
VITAMIN D3
PROBIOTICS
ANTIOXIDANTS
COQ10
BACK TO RESULTS
Supplements are simply one component of transformation success. They augment your diet and exercise, and may provide other key benefits to your overall well-being, but they're useless without a solid training and nutrition program. Be sure to watch the other Back to Fit overviews for those crucial details!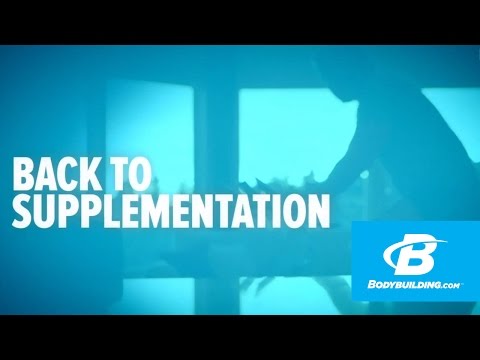 Source: Bill Phillips BACK TO FIT 12-Week Trainer: Back To Supplementation – Bodybuilding.com