SkinB5 Acne Control Extra Strength Tablets, 180 tablets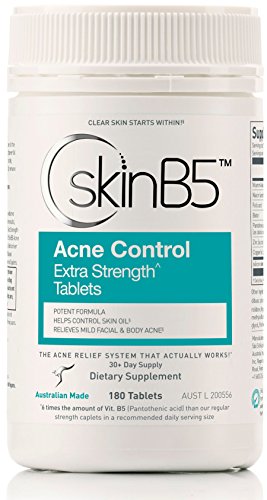 SkinB5 Acne Control Extra Strength Tablets are a strong formula to help treat acne, pimples, blackheads and whiteheads. These tablets are one of the world's most advanced and scientifically formulated tablets available today. Each caplet contains the revolutionary Vitamin B5 and other potent acne and skin clearing nutrients to treat mild facial and body acne from within. The tablets are suitable for teenage and adult acne sufferers and all skin types. SkinB5's advanced formula contains key vitamins and minerals to promote healthy and purifying skin.
Highlights:
Pantothenic Acid (vitamin B5) promotes healthy skin, supports skin renewal, and helps regulate skin oil production
A potent formula that promotes healthy skin, supports renewal, and assists in the healing of minor wounds by supporting wound closure
Contains Nicotinamide (vitamin B3) and Folic Acid which assists improvement in the appearance of acne treatment and also helps in the treatment of stress, anxiety and tension
Contains zinc, as acne reduces zinc levels and zinc helps heal blemishes, reduces inflammation, and reduces hormonal effects on the skin
Contains vitamin A, which is commonly known as the anti-infective vitamin required for normal functioning of the immune system
SkinB5's effectiveness as an aid is safe for users of all ages and helps reduce mild acne by regulating the skin's production of sebum, or skin oil
SkinB5 is an award winning Australian patented formula, all-natural acne supplement that works from within to aid in the elimination and cure of acne, blackheads, and whiteheads on the face and all over the body. The SkinB5 acne treatment system is based on vitamin B5 which is proven to increase skin health and reduce acne.
Pantothenic Acid (vitamin B5) promotes healthy skin, supports skin renewal, and helps regulate skin oil production
Scientifically formulated to treat mild facial and body acne from within
Assists in the healing of minor wounds by supporting wound closure
Helps balance the hormones and bolster healthy immune system
SkinB5's effectiveness is proven to increase skin health and safe for users of all ages

Buy now… $69.95

Source: SkinB5 Acne Control Extra Strength Tablets, 180 tablets