Learn how to overcome Adrenal Fatigue naturally in this interview with Pharmacist, Mike Pass.
Our physiological responses to today's social pressures, information overload and rapidly changing world are similar to those set into motion during physical danger and survival threats our ancestors may have experienced. Therefore, we have to make changes that will help our bodies address these stress levels. These physiological responses are the primary role of the adrenal glands.
Increased stress levels have come at the expense of our adrenal glands. Once the brain recognizes stress or conflict, it sends a series of biochemical signals to the adrenals to kick into high gear.
The endocrine response to psychological stress includes increased production of:
Adrenocorticotropin (ACTH)
Cortisol
Vasopressin
Epinephrine (adrenaline).
There is also a reduction in the output of the female luteinizing hormone (LH) and the male hormone testosterone.
The adrenal system was originally designed to react to stress on a relatively infrequent basis. Our society has developed to the point where we can feel constantly stressed. Therefore, we must supply our body and adrenal glands with additional support in order for them to function optimally.
What can you take for Adrenal Fatigue symptoms?
Adaptogens (Adaptogens allow the body to adapt to stress)
Vitamin C
Magnesium
Zinc
These are things that can be used to help heal and make the adrenals well again. It can take anywhere from 6 weeks to 1 year for the adrenals to adjust back to a normal, healthy state.
Learn more about Adrenal Fatigue and products to help reduce the symptoms from our blog: http://blog.professionalsupplementcenter.com/stress-and-our-adrenal-glands/
We suggest the following physician recommended products for Adrenal Fatigue:
Super Adrenal Stress by Dr Wilson's Original Formulations:
http://www.professionalsupplementcenter.com/Dr-Wilsons.htm
Super Adrenal Stress Ingredients:
Serving Size: 1 caplet
Amount Per Serving:
Vitamin A (as palmitate) 2,000 IU
Vitamin C (as ascorbic acid, and magnesium, sodium, zinc, manganese and potassium ascorbates) 308 mg
Vitamin E (as mixed tocopherols) 16 IU
Thiamin (vitamin B1 as thiamine HCI) 5 mg
Ribovlavin (vitamin B2 as riboflavin HCL & riboflavin- 5′-phosphate) 5 mg
Niacin (vitamin B3 as inositol hexanicotinate) 26 mg
Vitamin B6 (as pyridoxine HCI & pyridoxal-5-phosphate) 30 mg
Folic Acid 200 mcg
Biotin 100 mcg
Pantothenic Acid (as D-calcium pantothenate) 240 mg
Magnesium (as ascorbate/citrate) 40 mg
Zinc (as ascorbate) 3 mg
Selenium (as selenomethionine) 10 mcg
Copper (as bisglycinate) 0.2 mg
Manganese (as ascorbate) 2 mg
Sodium (as ascorbate) 5 mg
Potassium (as ascorbate) 1 mg
Chromium (as trivalent chromium chloride) 200 mcg
Proprietary Blend 180 mg:
Citrus Bioflavonoids
Inulin
L-5 Hydroxytryptophan (5-HTP)
Choline Bitartrate
Kelp
PABA (potassium para-aminobenzoic acid)
Alfalfa Juice
DAIRY-FREE, VEGAN product.
Contains NO animal products, milk, egg, sugar, salt, wheat, gluten, nuts, yeast, corn, soy, or artificial coloring, flavoring or preservatives.
Adren-All by Ortho Molecular:
http://www.professionalsupplementcenter.com/OrthoMolecularAdrenAll.htm
AdrenoMend by Douglas Laboratories:
http://www.professionalsupplementcenter.com/DouglasLaboratoriesAdrenoMend.htm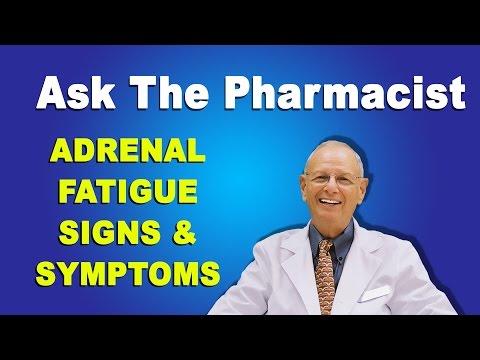 Source: How To Overcome Adrenal Fatigue Naturally Interview with Pharmacist, Mike Pass